Back to all posts
Posted on
My PATH- Partnering in Physical Literacy to Promote Healthy Living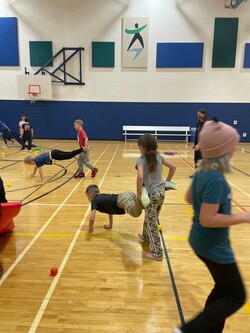 In 2021-22, our My PATH Program partnered with the Transalta Tri Leisure Centre to offer the Athletic Development course to our students. Students attend the TLC weekly to participate in a variety of movement activities to build physical literacy skills and a solid foundation of fitness. My PATH Program offers a multi-sport approach to athletic development, so the additional training provided in the TLC program is helping students transition to participating in a variety of sports with great success and minimal injuries.
The program follows the Sport for Life guidelines for physical literacy development. Our elementary-aged students are provided opportunities to develop their fundamental movement skills and movement foundations like agility, balance, and coordination, through various game play activities. The focus is on the student's innate desire to play as the best way to learn and develop skills. The program promotes imaginative play, creativity, teamwork, social connectivity, cognitive development, and emotional strength. 
Our grade 6-9 students practice communication, leadership and teamwork skills as they learn the concepts of healthy living through both theory and practice. They learn the connection between foundational fitness and sports performance. They are expected to set goals and perform fitness assessments throughout the year to track improvements. 
"The students all seem motivated to learn and are extremely encouraging of their teammates. The AD program at the TLC supports students to overcome challenges, try new things, and celebrate both individual and team accomplishments. The coaches are fantastic and do a great job planning and implementing lessons that are fun, safe, and challenging while considering the varying skill sets of our students." explains My PATH Program Lead, Natasha Rychlik.
Isabella and Jackson Carlson, siblings in the grade 6/7 My PATH class, said "We love the team building activities like Minefield or Architect." "I really like when we get to create our own physical activity games and coach others on how to play it!" explained Ryder Moore, grade 7 student.
Community partnerships that offer enhanced learning opportunities focused on physical literacy, arts, technology and health education are the foundation of the My PATH Program. For more information, visit https://cfl.psd.ca/programs/mypath or email natasha.rychlik@psd.ca.